Spray Polyurethane Foam (SPF) is used throughout Phoenix on flat and low-slope roofs because of its durability, water resistance and energy efficiency. Polyurethane Foam is a two-component liquid that is sprayed onto the roof surface; the foam is then coated with Elastomeric Coating to protect is from the sun's harmful UV rays. Polyurethane Foam roofs have been known to last as long as 50 years if they are installed and maintained correctly.
What is Polyurethane Foam?
Spray Polyurethane Foam consists of isocyanate and polyol, which are pumped through separate lines to a specially designed gun, where they are mixed and sprayed onto the substrate. Once applied, the mixture expands 20-30 times its original volume and dries in seconds.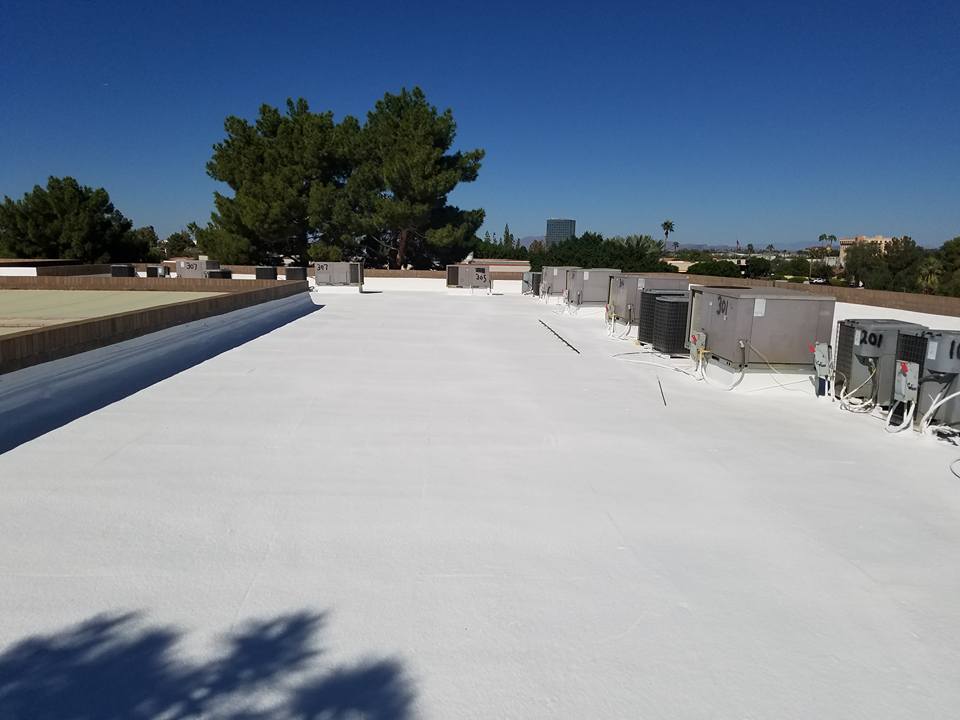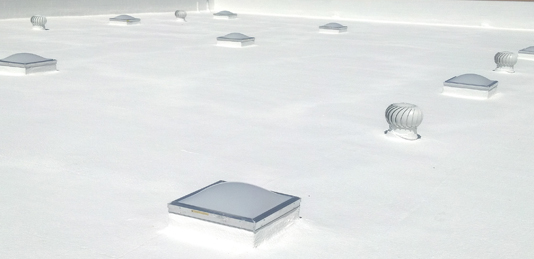 Why Choose Spray Polyurethane Foam Roofing?
It's energy efficient
With an R-value of 7.14 per inch of sprayed thickness, a Polyurethane Foam roof coated with Elastomeric Coating has one of the highest R-values of any roofing material offered. Reflecting as much as 90% of the suns damaging ultraviolet rays, Elastomeric Coated roofs can reduce the surface temperature of your roof by as much as 75 degrees. Also, cooling costs are typically reduced by 30-50%.
It can be sprayed over any existing surface
Polyurethane Foam can be applied over any existing roof system, including pitched roofs. Your existing roof must be cleaned of dirt, debris and loose materials. Polyurethane Foam can be sprayed over your existing single layer roof system which will reduce costs associated with tear offs, labor and landfill wastes.
It's durable
A closed-cell foam, Polyurethane Foam provides an extremely durable surface that is both water tight and energy efficient. Elastomeric coatings create a monolithic (seamless) roofing system to provide excellent water resistance.
It's easy to maintain and repair
The maintenance of a Polyurethane Foam roof is key to its long lasting durability. Foam roofs must be washed and recoated every 5* years with Elastomeric Coating. We recommend having a Customer 1st Roofing representative inspect your Polyurethane Foam roof every year for defects and abnormal wear and tear, and clean the roof of debris. At Customer 1st Roofing, we specialize in Polyurethane Foam roofing and Elastomeric Recoats. (*Option for 10 year upgraded application)
Polyurethane Foam roofs are easy to repair as long as the proper materials are used. Elastomeric Putty and Tie-Tex Fabric are the most commonly used materials to repair small areas. Make sure to check with your roofing contractor to see if your roof is covered under a warranty. Most contractors' warranties will be void if repairs are completed by any other person or company.
It eliminates ponding and provides proper drainage
Polyurethane Foam can be sprayed in different thicknesses, as well can help eliminate or reduce low or ponding water areas on your roof to help promote drainage and decrease load on roof structure by spraying more foam in those areas.