Tile Roofing has long been used in the Valley of the Sun for its Southwestern look and charm. Tiles come in many different shapes, colors and styles to choose from to fit your individual taste and enhance the appearance of your home's look. At Customer 1st Roofing we specialize in Tile Roofing and R&R's (Underlayment Replacement). A typical tile roof can last anywhere from 10-20 years before underlayment replacement is needed. The life of your tile roof will depend on what type of underlayment is used as well as product installation methods.
What you need to know about your tile roof
The most important component to your Tile Roof is the underlayment, also known as felt paper. This is the rolled material that is underneath the tile. The condition of your tile roof is determined by this water proofing membrane. Underlayment comes in different thicknesses, with a min thickness of 30 lb felt required for tile roofs. 1″ x 2″ Wooden battens are also used in most concrete tile applications to provide a nailer as well to help tiles to lock into place. There are many advancements in underlayment these days, and many companies stay stuck in the old ways of roofing using the same materials year after year without ever advancing with the times. At Customer 1st Roofing we are always searching available products to ensure cutting edge advancements in materials are always used on our jobs.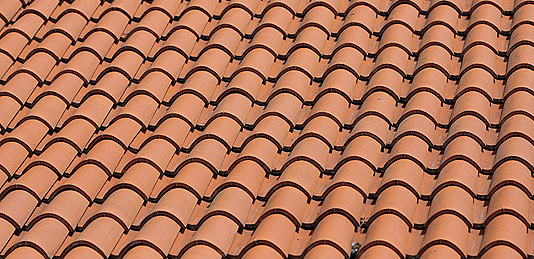 ALWAYS FIND OUT WHAT MATERIAL IS BEING USED ON YOUR NEW ROOF!
My home isn't that old, my tile roof should be fine… right?
Not necessarily…New construction homes have some of the most poorly constructed roofs we see out there. When a home is being built, whether it be a tract home or a custom build, many times the roof will be an area where expenses are saved. Most of the time the roofing underlayment is only the minimum required material and is often exposed to the sun for weeks or months until the tile is ready to be put on the roof. So it is very important to have your roof inspected by a Customer 1st Roofing expert to evaluate and determine the condition, age and life expectancy of your roof if you suspect any problems such as leaks, broken tiles, slipping or out of place tiles, debris, or installation defects.
Maintaining your Tile Roof
The roof tiles themselves may last 50 plus years with occasional broken tiles from weather damage, foot traffic, tree trimmings or golf balls. It is very important to maintain your tile roof to get the maximum life out of it. A broken tile may not sound like much of a problem, but it is. A single broken tile can wreak havoc on your roof within a short period of time, exposing that area and everything below it to the harsh sun and rain which dries up the oils in underlayment, making it brittle and susceptible to leaks and expensive repairs. We recommend having a Customer 1st Roofing tile expert check your roof at least 2-3 times each year for broken tiles and worn underlayment, and to clean your roof of debris.