Shingle roofs come in many different looks, colors and brands with a huge selection of quality and design. They can enhance the appearance of your home and give you the curb appeal that sets you apart from your neighbors. At Customer 1st Roofing we offer a complete line of shingles from the most basic and economical to higher-end designer shingles.
What are the different types of Asphalt Shingles?
3-Tab Shingles
3-Tab shingles offer affordable, basic protection for your home. They come in a limited range of colors, offering a traditional and classic look for your home. 3-Tab shingles come with a 25 year Limited Manufacturer's Warranty.
Architectural Shingles (also known as Dimensional Shingles)
Architectural Shingles offer a more layered look to the classic 3-Tab shingle. These shingles come in a wide range of colors, giving your home the architectural look of cedar shingles with the strength and performance of asphalt. Architectural shingles do not cost much more than the 3-Tab shingles, but provide a much different, more updated look. Architectural shingles come with a  Limited Lifetime Manufacturer's Warranty.
Lifetime Designer Shingles
Lifetime Designer Shingles offer an uncompromising elegance and beauty to meet the most demanding taste and desire for the best. Lifetime Designer Shingles come in a wide range of colors and styles, giving your home a customized, modern look. This extra thick shingle offers the most protection for your home, coming with a Lifetime Limited Warranty.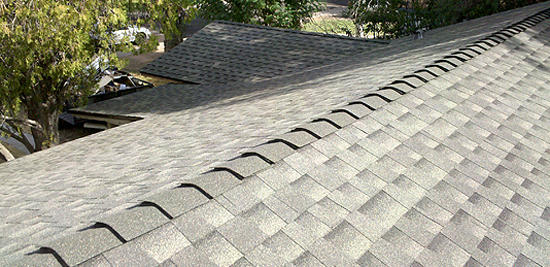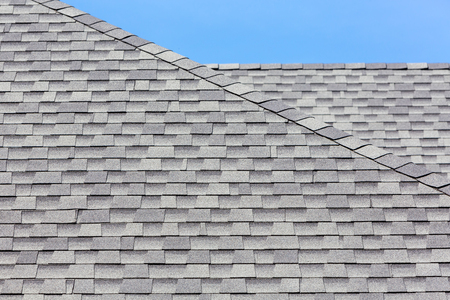 How do I determine if my roof should be replaced?
If asphalt shingles are installed properly it should last 20 years for a 3-tab shingle and 30 years for a Dimensional shingle. When a shingle roof ages it will start loosing its granules; you may notice black spots on the roof or granules in your gutters or walkways/driveway. Your shingles may also begin to curl, crack and break off. Missing shingles is a sign of roof failure or wind damage.
If you suspect your roof needs to be replaced or repaired, have one of our Customer 1st Roofing representatives provide you with a roof inspection. Doing this, we can determine the approximate age of the roof, how much life is left, and take care of any maintenance or repairs to help prolong the life of your existing roof. If a replacement is needed, we will give you options with an estimate for your new shingle roof of choice.
Does my roof need to be torn off?
Arizona building code states that you can have up to two layers of roof. Dimensional roofs will be required to be torn off because of their higher profile, not allowing new shingles to lay down flat. At Customer 1st Roofing we can put a new shingle roof over your existing roof as long as your existing roof is a single layer 3-tab roof. Roof overlays will eliminate expensive tear-off and landfill costs.
Underlayment
Asphalt shingles require a layer of underlayment which acts as a moisture barrier between the shingles and the plywood sheathing underneath. The type of underlayment used will be a minimum of 15 lb. Additional underlayment options are available, including 30 lb and synthetic. At Customer 1st Roofing we will ensure that the highest rated, yet economical underlayment is used on your shingle re-roof.
Roof ventilation
Proper attic ventilation will prolong the life of your roof by minimizing the temperature difference between the attic and the air outside. Moisture in your attic is the #1 cause of mildew, wood rot and mold, and renders insulation to be ineffective. Improper ventilation from bathtubs and showers can sometimes be bad enough to be mistaken for roof leakage. At Customer 1st Roofing anytime we install a new roof we check around the house and on the roof for adequate ventilation. Roof and ridge vents can be installed during the roof replacement process to help attic ventilation.